A three day program focusing on key interest areas for all fish veterinarians.
Our 2022 Conference will be October 21-23, 2022 at the University of Florida's Whitney Laboratory for Marine Bioscience.
Located near St. Augustine, FL
Guy Harvey Resort
Friday Fish Necropsy Wetlab
Saturday Fish Continuing Education Lectures
Sunday Fish Surgery Wetlab
Stay Tuned!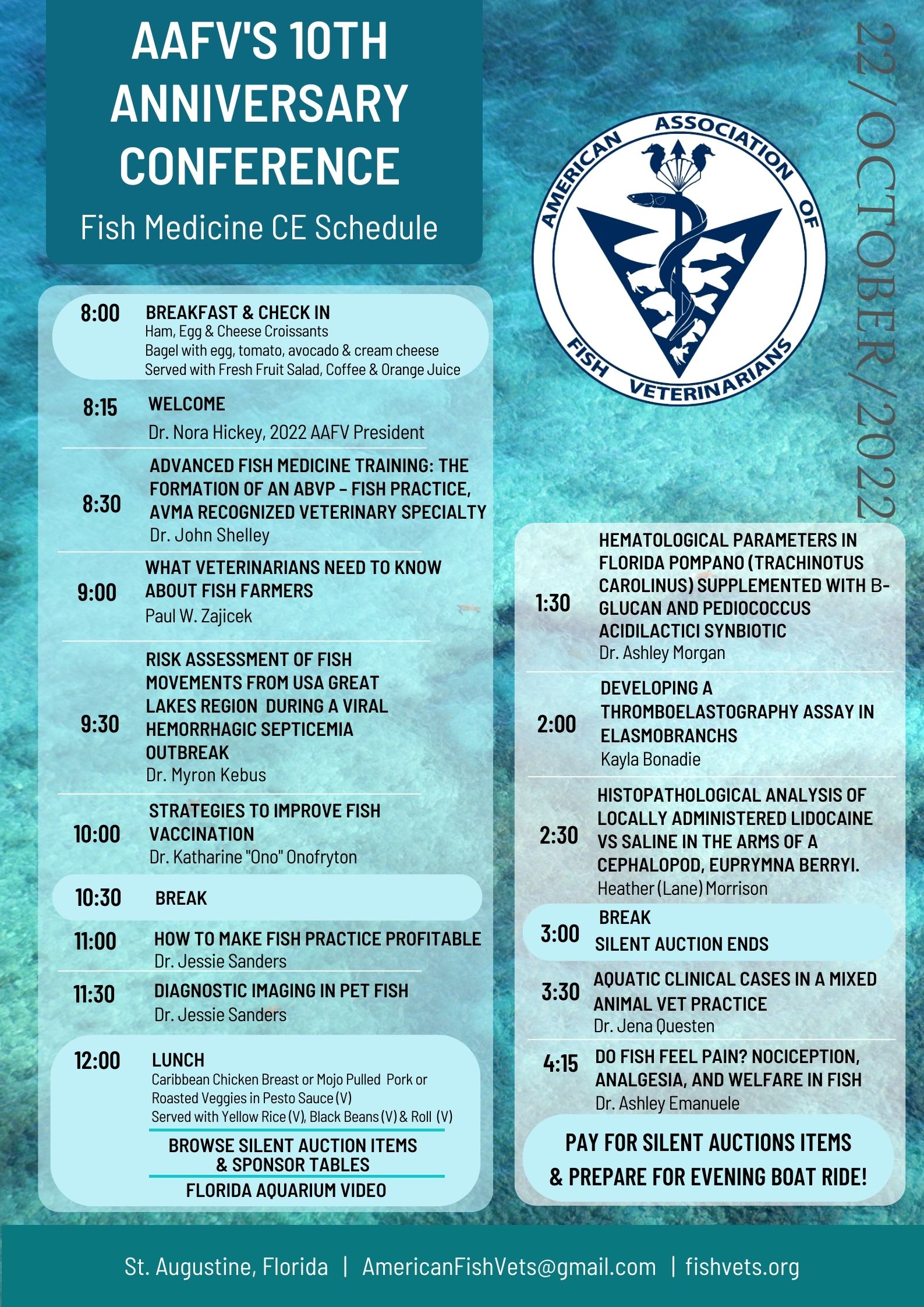 Limited Sponsorship Spots Available

Thank you to our sponsors:
Click the logos to visit their websites. Tell them AAFV sent you!
Call for Papers and Presentations
DEADLINES
May 13, 2022 – Deadline for presentation title and abstract (200 words or less) to be received by AAFV for consideration.
May 27, 2022 – Selected presenters will be notified this week.
July 15, 2022 – Deadline for information for RACE (5 items required, see below) to be submitted to AAFV.
REGISTRATION
All presenters must register for the conference.
ABSTRACT DETAILS
Please consider submitting abstracts for presentations of 30 or 45 minutes. If you are interested in submitting abstracts, please send an email to americanfishvets@gmail.com with the following information:
1) Indicate a general focus area your talk falls under
2) Title of Talk
3) Abstract (200 words or less)
Please note: These sessions will be recorded for attendees who cannot attend in person and our intent is to apply for RACE veterinary continuing education credit. We require all speakers to make their presentations available for recording in order to enrich this session for those unable to attend.
RACE
If your abstract is selected, we will need the following RACE Information by July 1, 2022:
Biographical information demonstrating your qualifications on your subject matter.  This can be biography, CV, resume with credentials (150 words or less)

Objective of your talk

5 questions with answers (for each 30 or 45 -minute presentation) for "On Demand Viewing." These should be in a multiple choice, Yes/No, or True/False format

Signed presentation agreement
For veterinary student presentations to be considered for RACE veterinary continuing education credit, students must additionally meet the following criteria:
Provide evidence of currently being engaged in a recognized course of study accredited by the American Veterinary Medical Association or Canadian Veterinary Medical Association that leads to an advanced degree or specialty recognition related to the subject matter

Must provide 2 letters of recommendation from veterinarians who are subject matter experts in the field of fish medicine
We hope you will consider submitting an abstract to our 2022 program.
A two half-day program focusing on key interest areas for all fish veterinarians.
Our 2021 Conference is now available On Demand. This program has been approved for 11.25 hours of continuing education credit in jurisdictions which recognize RACE approval.
Student Registration - $25
Member Registration - $100
Non-member Registration - $200
Thank you to our sponsors:
Looking for more CE?
You can also register for our previous conference recordings on the above registration site if you want to catch up on past years.
Please note that CE for the 2020 Conference CE expires on 09/28/2022, you must have viewed the recording and submitted your answers to your test by then.
Contact americanfishvets@gmail.com when you are ready for your test.
Save Money on Registration
Become a AAFV member and get a discount on your conference registration fees.
Members also get special access to vet resources on our site and many other valuable resources.
Past Proceedings
If you want to purchase past conference proceedings, AAFV is holding a special ($30 for 2014-2020) if purchased on our site.
8th Annual Conference
Virtual
October 2021
7th Annual Conference
Virtual
October 2020
6th Annual Conference
with AAZV
St Louis, MO
September 2019
5th Annual Conference
with ISAAH
Charlottetown, Prince Edward Island
September 2018
4th Annual Conference
with AAZV/ARAV/AEMV/NAG
Dallas, TX
Sept 2017
3rd Annual Conference
North Carolina Aquarium
April 2016
2nd Annual Conference
Shedd Aquarium
April 2015
1st Annual Conference
Shepherdstown, WV
April 2014